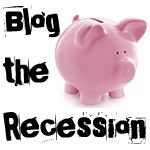 ... but recessions? Not so much.
I'm not going to mince words - the month of July was a complete and total asswipe to most of the blogosphere. It felt like every other day I was reading a post that made me comment, "Oh, I'm so sorry." There were cancer scares, there were terrible losses, there were lay-offs, there were illnesses, there were break-ups (*ahem*) - basically, there was a bunch of craptastic stuff happening. July? Was
not
a good month.
So, in the hopes of making August a little better,
Kristen
came up with a great idea she has dubbed "
Blog the Recession
." Participating is easy, here's all you have to do: Whenever you're reading your blogs on a reader (Google Reader, Bloglines, etc.), take the extra ten seconds to CLICK THROUGH. Clicking over to the actual blog serves a couple purposes - for bloggers whose ad revenue is based on page views, you're helping them make a few extra bucks. For bloggers who don't make any extra money because of your page views, well, you're just giving them a little ego boost with some more traffic. And after the July that many of them (us) had, that could do a lot of good.
If you want to do even more to help Blog the Recession, head over to
Motherhood Uncensored
to grab a button to put on your blog. If you'd like to spread the word, write a post on your own blog imploring others to join in the click-through fun. And if you have a prize to donate, email Kristen and share the wealth. Let's make August a good month. (Or at least a better one than July.)
And so, to bring you all out of your readers, I'm calling for comments on this very important issue:
Sometimes you feel like a nut; sometimes you don't. Is today a nut day, or a non-nut day? Inquiring minds want to know.